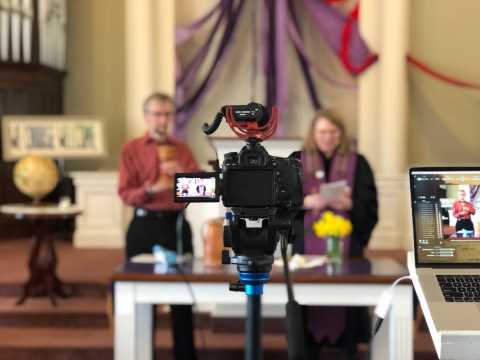 Our sanctuary has reopened, but we are continuing to broadcast our 11 a.m. worship service using Facebook Live! 
In addition, for those who prefer an outdoor option, we are offering an 8:30am service at Morgan's Grove Park Pavilion (through at least October).
To view the live, 11:00 services on Sunday morning, go to our Facebook site at https://www.facebook.com/groups/spcworks/. The "live stream" box will appear at approximately 10:55 a.m. (A Facebook account is not required to access this.). Be sure to check the date at the beginning to make sure that you are viewing the current video.
For those using an iPhone or iPad, it is suggested that you download the Facebook App for the best viewing experience.
Worship materials for our upcoming service may be found in our "News" section.
Most of our other past services and highlights may be viewed at https://vimeopro.com/spcworks/live
For recordings of services from 7/4 - 9/5/2021, please see separate entries in our "News" section
Permission to podcast/stream the music in this service obtained from One License with license #A-710209.